(versión en español de esta página)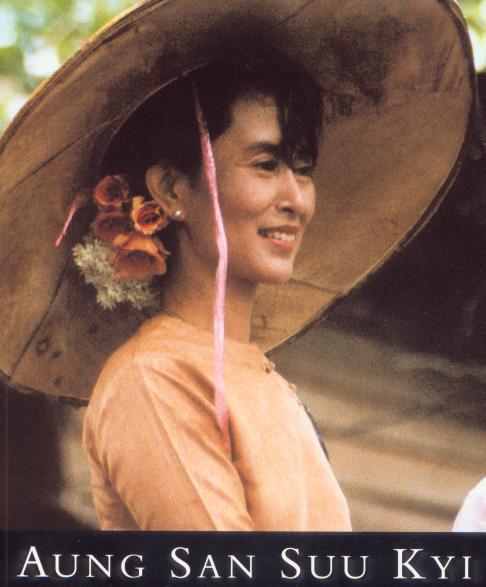 Daw Aung San Suu Kyi is modest and soft spoken. And depending on whether you believe the military rulers of Burma or the Nobel committee, she has been either a puppet of imperialism or one of the most courageous women alive.
The woman who has challenged one of the world's most repressive military regimes stands only five-foot-four inches and weighs only 100 pounds. She usually appears in public with flowers pinned behind her ears, adding to her appeal. But her petite appearance and gentle manners take nothing away from her tremendous conviction.
Seated under a huge painting of her famous father, it's easy to see the resemblance. At her first public appearance in 1988, more than half a million Burmese came to hear the new freedom fighter, -first they were attracted by the famous name, and then mesmerized by the same captivating manner and riveting speeches.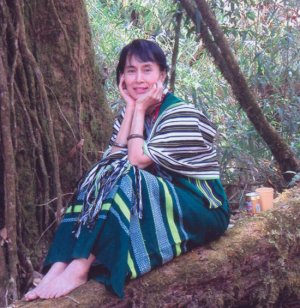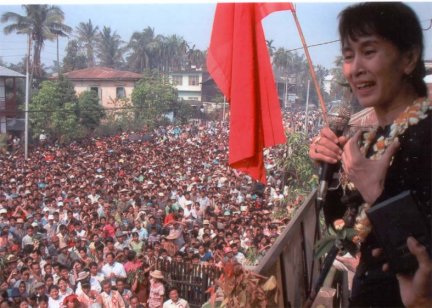 After reaching power, Suu Kyi has supported some undemocratic procedures. See "Summary" below.
---
---
Excerpts from the book
LETTERS FROM BURMA (1996)
by Aung San Suu Kyi
IMPORTANT NOTICE: Please buy Suu Kyi's books. You will surely enjoy her engaging prose and the books fine illustrations. And you will help her and her party in their long struggle in favor of democracy and human rights.
Aung San Suu Kyi is the leader of the struggle for human rights and democracy in Burma. Born in 1945 as the daughter of Burma's national hero Aung San, she was two years old when he was assassinated, just before Burma gained the independence to which he had dedicated his life. After receiving her education in Rangoon, Delhi and at Oxford University, Aung San Suu Kyi then worked at the United Nations in New York and Bhutan. For most of the following twenty years she was occupied raising a family in England (her husband was British), before returning to Burma in 1988 to care for her dying mother. Her return coincided with the outbreak of a spontaneous revolt against 26 years of political repression and economic decline. Aung San Suu Kyi ('Suu' to her friends and family) quickly emerged as the most effective and articulate leader of the movement, and the party she founded went on to win a colossal electoral victory in May 1990, even though she had been put under house arrest in July 1989. After the election the military rulers refused to transfer power to a civilian government as they had promised, and kept Aung San Suu Kyi under arrest until July 1995.
Aung San Sun Kyi is an honorary fellow of Oxford University. In 1991 she was awarded the Nobel Peace Prize. In its citation the Norwegian Nobel Committee stated that in awarding the Prize to Aung San Suu Kyi, it wished 'to honour this woman for her unflagging efforts and to show its support for the many people throughout the world who are striving to attain democracy, human rights and ethnic conciliation by peaceful means'. Aung San Suu Kyi is also author of several books, including Freedom from Fear and The Voice of Hope.
YOUNG BIRDS OUTSIDE CAGES
Throughout the years of my house arrests my family was living in a free society [England] and I could rest assured that they were economically secure and safe from any kind of persecution. The vast majority of my colleagues who were imprisoned did not have the comfort of such an assurance. They knew well that their families were in an extremely vulnerable position, in constant danger of interrogation, house searches, general harassment and interference with their means of livelihood. For those prisoners with young children it was particularly difficult.
In Burma a number of political prisoners who were put in jail for their part in the democracy movement were kept there without trial for more than two years. Only after they were tried and sentenced were they allowed family visits: once a fortnight, -for a mere fifteen minutes.
I was not the only woman political detainee in Burma: there have been a number of other women imprisoned for their political beliefs. Some of these women had young children who suddenly found themselves in the care of fathers worried sick for their wives and totally unused to running a household.
When the parents are released from prison it is still not the end of the story. The children suffer from a gnawing anxiety that their fathers or mothers might once again be taken away. They have known what it is like to be young birds fluttering helplessly outside the cages that shut their parents away from them.
REAL COURAGE
There is nothing to compare with the courage of ordinary people whose names are unknown and whose sacrifices pass unnoticed. The courage that dares without recognition, without the protection of media attention, is a courage that humbles and inspires and reaffirms our faith in humanity. Such courage I have seen years after years.
LAW AND ORDER [in 1996]
Hospitality is no longer simple in Burma. Staying overnight in a house other than your own involves more than friendship, good conversation and a cool mat. Visitors must make up their minds before too late an hour if they intend to stay the night, because their presence has to be reported to the local Law and Order Restoration Council (LORC) before nine o'clock in the evening. Failure to 'report the guest list' could result in a fine or a prison sentence for both the guest and the host. Nobody may go away for the night from his own home without informing the LORC of the place where he will be staying. The authorities have the right to check at any time during the night to see if there are any unreported guests or if any of the members of the family are missing. Households which shelter members of the NLD or their supporters tend to be subjected to frequent 'guest checks' these days.
SOME RECENT HISTORY
In 1947, on 19 July, six months before Burma was officially declared a sovereign independent nation, my father and several of his colleagues were assassinated while a meeting of the Executive Council was in session. The crime was arranged by an envious politician.
On March 1962, the democratically elected government was removed by a military coup. The students of Rangoon University did not respond favourably to the establishment of military rule. Events took a nasty turn on 7 July, when soldiers were ordered to open fire on the students. It was officially declared that only sixteen students had been killed, but there are claims that the number of dead was over one hundred.
Many years later, on 23 July 1988, as a result again of student unrest, the Burma Socialist Programme Party (BSPP), which had dominated the country for a quarter of a century, held an emergency Congress in which the top leaders of the BSPP resigned. But within days it became clear that the new administration had no intention of abolishing one-party dictatorship. Again the people of Burma poured out on to the streets in a great, spontaneous demonstration of their desire for a governing system that would respect their will.
But it is never easy to convince those who have acquired power forcibly of the wisdom of peaceful change. On the night of 8 August the army moved to crush the demonstrations, shooting down thousands of unarmed people. The killings went on for four days, but the demonstrations continued, and the new president also resigned. On 18 September a new military junta assumed power, with what has often been described as an Orwellian title: the State Law and Order Restoration Council or SLORC.
The SLORC proclaimed that it would establish multi-party democracy in Burma within a short period of time. More than 200 parties registered, among them the National League for Democracy (NLD). From the very beginning the path the NLD had to tread was far from smooth. The enthusiastic support of the public brought upon the party the unfriendly attention of the authorities.
The elections of May 1990 were hailed as one of the freest and fairest ever, and the NLD won 82 per cent of the seats [with more than 60 percent of the popular vote]. But as this was not the result SLORC had expected, it decided to forget its earlier promise and indicated that the new job of the elected representatives was only to draw up a constitution. Furthermore, later SLORC proceeded to organize a National Convention in which less than one fifth of the delegates were the elected representatives of the people.
---
---
Authocracy vs. Democracy
Suu Kyi is well prepared intellectually, as can be verified reading an excerpt of her paper "Empowerment for Peace and Development", in which she rebukes the argument of the convenience of authoritarianism "for some particular countries."
2000 to 2023 SUMMARY
SLORC changed its name to the State Peace and Development Council (SPDC), but its repressive policies and violation of human rights continued unabated.
Suu Kyi, the leader of the Burmese (Myanmar) National League for Democracy (NLD), began a third period under house arrest in May 2003 following a violent clash provoked by a pro-government mob attacking her supporters. The Burmese generals prolonged her arrest arbitrarily, with the old, worn out argument of "national security", normally used by authoritarian governments ...and which usually just means "ruler security".
She was finally released in November 2010. Since 1989, she has been detained for more than ten years. Even when released, her movements have been restricted, and her followers arrested and often abused.
BBC - 29 March 2010
Burma's main opposition party, the National League for Democracy (NLD), did not take part in the country's first polls in two decades because of unjust electoral laws. The laws announced by the junta required the NLD to expel many of its leaders, including Aung San Suu Kyi, because she had a "criminal" record, according to the military rulers.
BURMA'S 2010 ELECTION FARCE:
-Constitution: 25% of the seats in parliament are reserved for the military, and the votes of more than 75% of its members are required for any constitutional change.
-Election law: Monks and those with "criminal" convictions, including political activism, could not take part.
-Election commission: Handpicked by Burma's military government.
In October 2011 the government indicated it would eventually free over 6,000 prisoners. Credit must be given to Myanmar President Thein Sein, a former general elected in March, 2011, for implementing democratic reforms.
The 2010 election laws were later changed, and the National League for Democracy (NLD) participated in elections held in April 2012 for 45 seats then vacant in parliament. The NLD won 43 of the 44 seats it competed for in these partial elections, ... including the 4 contested in Nay Pyi Taw, the remote capital city recently built by the military. Aung San Suu Kyi won with 85% of the vote in her Kawhmu circuit: she received 55,902 votes compared to 9,172 for the ruling party candidate. "What is important is that the people are so enthusiastic about participating in the democratic process," Suu Kyi said.
In September 2012 President Thein Sein said he would accept Aung San Suu Kyi as president if the people elected her, adding that the armed forces would continue to play a central role in Burmese politics. But a peculiar constitutional clause, drafted by the military, disallows Aung San Suu Kyi as a candidate for the presidency. The clause bans candidates with non-Burmese partners or children, and Suu Kyi's late husband and two children are British citizens.
In the 8 November 2015 general elections, the NLD won about 60% of the seats, enough to elect a new President in early 2016. Suu Kyi in transition talks. In 14 March 2016, Myanmar's parliament elected Htin Kyaw, a close ally of Aung San Suu Kyi, as the country's next president.
In April 2016, President Htin Kyaw gave to Suu Kyi the office of State Counsellor, a new government position similar to a Prime Minister.
As de facto head of the government of Myanmar, Aung San Suu Kyi was criticized during 2017 for her inaction to stop the persecution and violence against the Rohingya by the Burmuse military forces and religious fanatics, -even though the military maintain significant power in the government and are not subject to her control.
In september 2018, regarding the jailing of two burmese journalist for political reasons, Suu Kyi defended the verdict against the journalists: "They were not jailed because they were journalists, they were jailed because... the [partial and dependent] court has decided [with mock evidence] that they have broken the [colonial-era vague and abusive] Official Secrets Act." Suu Kyi had long talked about the need to reform Myanmar's judiciary and improve the rule of law. In this case, Suu Kyi has broken with the democratic ideals she fought valiently for so long. Why? Maybe because she increases her popularity in Myanmar by been authoritarian in matters regarding the Rohingya minority, which most burmese see as invaders from Bangladesh.
In elections held in Nov 2020, the NLD won by a wide margin, increasing the number of seats it had won in the 2015 elections: more than 60% of the seats in both Houses. The military won less than 6% of the elected seats (by law 25% of the seats were pre assigned to the military).
Not been able to democratically increase their control of Myanmar, the military again resorted to a coup. In February 2021, they declared the results of the November 2020 general election invalid, transfered power to a military junta, and arrested Suu Kyi and other leaders of her NLD party. By August 2023, the military regime had sentenced Suu Kyi to more than 25 years in prison.
IN CASE YOU DIDN'T KNOW
Locals call the country 'Myanmar' in their language since independence, even though early British called it 'Burma'. In 1989 SLORC changed the country's name officially to 'Myanmar' to synchronize it with the local language.
----------------
In Burma, the first part of some names may have the meaning of Mr. or Ms.: U for older men, Ko for younger men, and Daw for older women. Hence, Mr. Lun Gywe is addressed as U Lun Gywe.
SOME INTERESTING LINKS
Amnesty International ;
Human Rights Watch ;
Online Burma/Myanmar Library (excellent documentation);
United Nations General Assembly Resolution on Myanmar (2004) ;
(the above link is a local copy from http://www.ibiblio.org/obl/docs/GA2004-res(en).pdf)
video of Suu Kyi about non-violence [youtube - 2m:15s] ;
The European Union's relations with Burma/Myanmar .
---
from http://nobelprize.org/nobel_prizes/peace/laureates/1991/kyi-bio.html
Aung San Suu Kyi - Biography
1942: September. Marriage of Aung San, commander of the Burma Independence Army, and Ma Khin Kyi, senior nurse of Rangoon General Hospital.
1945: June 19. Aung San Suu Kyi born in Rangoon.
1947: July 19. General Aung San assassinated. Suu Kyi is two years old.
1960: Daw Khin Kyi appointed Burma's ambassador to India; Suu Kyi accompanies her mother.
1964-67: Oxford University, B.A. in philosophy, politics and economics (elected Honorary Fellow, 1990). Suu Kyi meets future husband Michael Aris, student of Tibetan civilization.
1969-71: Suu Kyi goes to New York for graduate study; joins U.N.
1972: Marries Michael Aris.
1973: First son Alexander born.
1977: Second son Kim born.
1984-5: Publishes "Aung San". For juvenile readers publishes "Let's Visit Burma" and books on Nepal and Bhutan. Appointed Visiting Scholar in Kyoto University.
1987: Fellowship at Indian Institute in Simla. Suu Kyi enrolls at London School of Oriental and African Studies to work on advanced degree.
1988: March 31. Mother suffers severe stroke. Suu Kyi takes plane next day to Rangoon to help care for Daw Khin Kyi. Stays in family home on University Avenue next to Inya Lake in Rangoon. Mother dies in December at age of 76.
July 23. Resignation of General Ne Win, since 1962 military dictator of Burma.
August 8. Mass uprising throughout country. Violent suppression by military kills thousands.
August 15. Suu Kyi, in first political action, sends open letter to government, asking for formation of independent consultative committee to prepare multi-party elections.
August 26. In first public speech, she addresses several hundred thousand people outside Shwedagon Pagoda, calling for democratic government.
September 24. National League for Democracy (NLD) formed, with Suu Kyi general-secretary and a policy of non-violence and civil disobedience.
October-December. Defying ban, Suu Kyi tours throughout Burma addressing large audiences.
1989: February 17. Suu Kyi prohibited standing for election.
April 5. Incident in Irawaddy Delta when Suu Kyi courageously walks toward soldiers with rifles aiming at her.
July 20. Suu Kyi placed under house arrest, without charge or trial.
1990: May 27. Despite detention of Suu Kyi, NLD wins election with 82% of parliamentary seats. SLORC refuses to allow installation of elected parliament.
1991: Nobel Committee announces Suu Kyi as winner of Peace Prize.
1995: July 10. SLORC releases Suu Kyi from house arrest after six years of detention. In the first months after detention was ended, she was able to speak to large gatherings of supporters outside her home, but this was stopped by SLORC.
1999: Michael Aris dies of prostate cancer in London. Burmese authorities prohibited him to visit Suu Kyi one last time; he had not seen her since 1995. The government always urged her to join her family abroad, but she would not be allowed to return.

---
FAIR USE NOTICE
This site may contain copyrighted material the use of which has not been specifically authorized by the copyright owner. We are making such material available in our efforts to advance the understanding of political, human rights, economic, democracy, social justice and other issues, and hopefully to help find solutions for those problems. We believe this constitutes a 'fair use' of any such copyrighted material as provided for in section 107 of the US Copyright Law [see also]. If you wish to use copyrighted material from this site for purposes of your own that go beyond 'fair use', you must obtain permission from the copyright owner.
This site is entirely noncommercial. The material on this site is distributed without fee or payment of any kind to those who have expressed a prior interest in receiving the included information for research and educational purposes. A click on a hyperlink is a request for information.
geogury [A.T] yahoo D0T com
For a working address, substitute [A.T] for the usual symbol and D0T for .
---
This page web address is:
http://gury.orgfree.com/suukyi1.htm
---
counter...